Hey y'all, it's Holy Wednesday.
Later on, there will be a procession around the town presenting the Passion of Christ.
The observation of the Lenten season is big in our town. The next 3 days will be the most quiet ones in the year. One of the activities of our parish is the annual pilgrimage to 7 churches.
I pledged to join since last year. This year, our pilgrim destination was the province of Cavite. We visited churches from the Diocese of Imus.
My friend Nagi, who happened to be a homegrown of Cavite, joined our pilgrimage. Compared to last year, there were more pilgrims who joined this year. It's great that more people are getting involved in religious activities.
Our Lady of the Pillar, Imus Cavite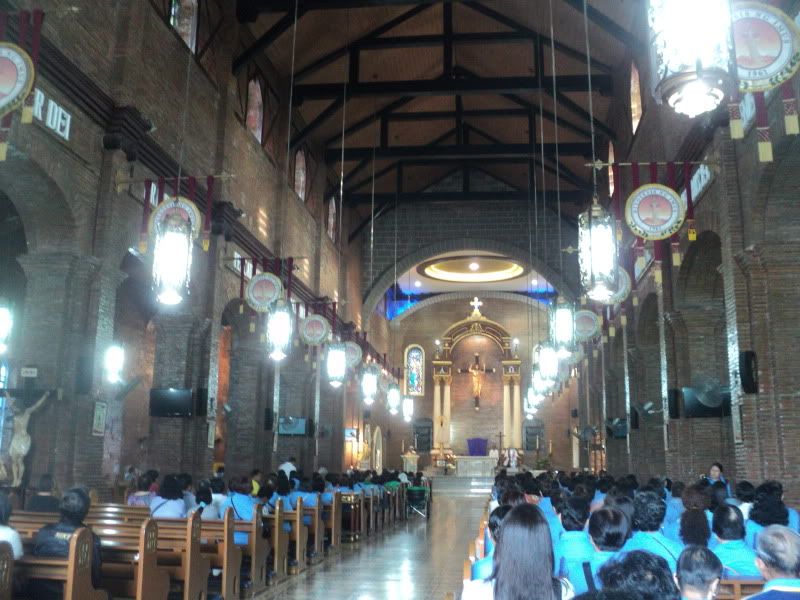 Our Lady of the Pillar Interior


Immaculate Concepcion Parish, Dasmarinas Cavite


Immaculate Concepcion Parish interior
Our Lady of La Salette Parish, Biga Cavite


Our Lady of La Salette parish interior



Our Lady of Knight Parish, Silang Cavite


Our Lady of Knight Parish interior



Ina ng Laging Saklolo (Our Lady of Perpetual Help) Parish, Tagaytay



Ina ng Laging Saklolo Parish interior



Our Lady of Lourdes Parish, Tagaytay


Our Lady of Lourdes Parish interior
We concluded our pilgrimage with a mass in our last church visit in St. Gregory the Great Parish in Indang, Cavite.
St. Gregory the Great Parish


St. Gregory the Great parish interior
concluding the Stations of the Cross
When I selected the pictures to post, I suddenly realized I don't have much to say. Then I've had second thoughts whether I should blog about this or not. The whole pilgrimage was supposed to be a spiritual journey, but I gotta be honest, looking at what happened during the day, I feel like I failed my mission.
I feel guilty, I feel like the whole pilgrimage itself had become more of an architectural and historical appreciation than an act of reflection and penance. I got distracted all the time, I laughed endlessly at the mishaps after mishaps I experienced while on the bus, I got critical of some disorderly proceedings of the pilgrimage and I barely listened to priest's homily.
Suddenly I am reminded just how flawed I am. Despite my honest desire to be a good disciple of Christ, I harbor ill thoughts towards other people. That's not to say I'm a wicked person wishing bad things for other people, no, but here's my dilemma -- when I am surrounded with complex and intellectual deep thinkers, I get intimated, but when I am surrounded with not so deep thinking people, I get extremely irritated. Irritated by stupid little things that radiate them, so I can't help but curse and trash those people, which is a bad waste of energy. I hate it when I hate, not a healthy feeling.
Everyday is a struggle to be a better person. This Lenten season, I reflect on all the awful things that I've done. Of course I know that God forgives, but it's not enough to just ask forgiveness, the act of repentance requires the commitment to correct the mistake, and I know that I say this on my everyday prayer, but I will try to be better.
I hope y'all have a meaningful Holy Week.