Hold on to each other, don't let go of one another!
The BIO reminded us. We graciously followed and eagerly waited for the go signal. And finally he said
GO!
We jumped off and ducked our heads. Then I saw Keiko. OMG! He's huge! (I'm not really sure if Keiko's a he, but for lack of definite information, I will refer to it as he). My eyes opened wide with wonder as I watched him gently swim forward. I'm not the squealing type in wow moments like this (and I can't squeal under the water anyway) but all those time all I could think of was Oh my God, oh my God!!! Then something went wrong, the water started to get inside my snorkel. I tasted sea water! I panicked, and though I haven't seen Keiko's full body, I raised my head and remove my snorkel. I put it back my mouth and tried to fix its fitting when Janet saw me and asked if I was okay. I was okay but I felt something was wrong. I felt like my life vest was yanking me. I realized that I got separated from the group and I felt sad not being able to see Keiko's whole body, but I was more concerned of my safety. My snorkel disappointed me, why did the water get in? And now I'm so far away from the group, even though I have a life vest on, the waves are taking me away. Good thing Janet stayed with me and calmed me. Our boat soon approached us and we went back, with hope that we'll spot another whale shark.
And we did. This time, I was more composed. I tightened my snorkel and locked the leg strap of my life vest. It didn't take too long for the BIO to spot Keiko again, we were reminded once more to hold on to one another. When we jumped, I was calmer and I decided that if the water comes in again, I'll just have to hold my breath. If David Blaine could hold his breath for 17 minutes and 4 seconds under water, an average person like me can do it for a minute or two. My problem this time though, was not my snorkel, but other fans of Keiko (other tourists). I thought that only 6 people are allowed to swim with one whale shark, but this time we had to share Keiko with other groups. As we swim to chase Keiko, I saw a bunch of butts approaching, other swimmers were also chasing Keiko of course. I got worried that my face would bump into those butts. The prankster in me toyed with the idea of groping one of the butts just to scare the hell out of them, but my conscience reminded me that I may not only be sent back to the shore but I can also be charged with harassment, so I focused on my priority, Keiko. Despite the struggle, I did see the whole body of the whale shark. So there goes Keiko again, this majestic giant finally showed his gentle entirety. I saw him swim forward, I saw his body move upward, like when a movie's ending credits roll. I was full of awe.
Photo of a Butanding grabbed from the DOT website
The third sighting was a quick one, swift and smooth and in fact I can't remember much what happened. But it was still Keiko for sure. The fourth sighting was another bummer for me. I got separated from the group again, this time, it was because Che let go of my hand. Good thing I was still with Janet or I would have ended up panicking again. Because I didn't see the fourth whale shark, I assumed he wasn't Keiko so I named him Mocchi. The BIO made a fifth sighting, but this time, none of us saw him, the shark got away too fast, we couldn't catch up. It think it was also Keiko.
The 6th and last sighting is Chastity. As my friend puts it, this was the most intimate whale shark encounter we've had. We had her all for our group and I felt like I was closer to her than Keiko. So close that I could have touched her, and I gotta admit, I was so tempted to hold on to her dorsal fin and let her tow me under water, but I remembered that I shouldn't be selfish. These gentle giants are supposed to go on with their usual business without having to deal with the threat we impose. So I watched her swim away from us, with wonder...
We didn't have underwater cam to record what happened on our whale shark interaction, I have no pictures of Keiko nor Chastity. But it was probably for the best. I doubt we'd get decent pictures when every sighting happened in a blast. I was just grateful to see those gentle giants.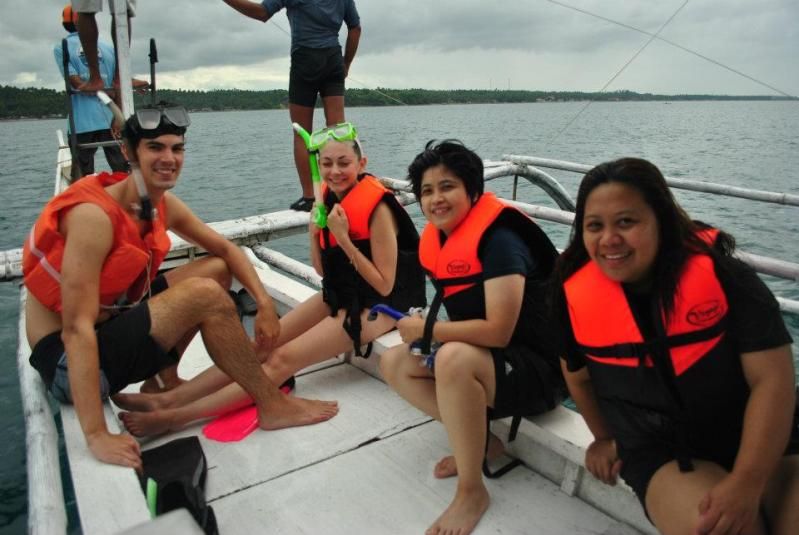 After the whale shark interaction, we set on our next destination --Masbate! Fr. Eric invited us for lunch, but we declined because we were trying to catch the 12:00 PM fastcraft trip to Masbate. Later on, I regret declining, we ended up missing the trip despite arriving earlier than 12. We had no choice but to wait for the next trip, which was 4PM. We were stuck in Pilar, Sorsogon for the next 4 hours. We had our lunch in a small eatery and then we bought our tickets for the 4:00 trip, after that, we were left to think what to do the whole time. A four hour wait time was too long. The good thing about the place is, I got a strong 3G signal, I was able to browse the mobile web. I decided to google Pilar Sorsogon to look for interesting places to check. Interestingly, I learned that the great film maker Lino Brocka was born there. Other than that, nothing else came up. Che and I decided to ask around, we were silly enough to think that Lino Brocka's house might still be erected in the place, but when we asked the town's people about it, they didn't even have any idea who Lino Brocka is. And that baffles me, I mean I know he passed away a long time ago, but he's one of the greatest Filipino film maker of our time, he's a national artist, how can they not know him? Anyway, we asked for sites to check, and this lady we asked answered 2 things - the court and the port. Nice *sarcastic tone alert*.
This is the court.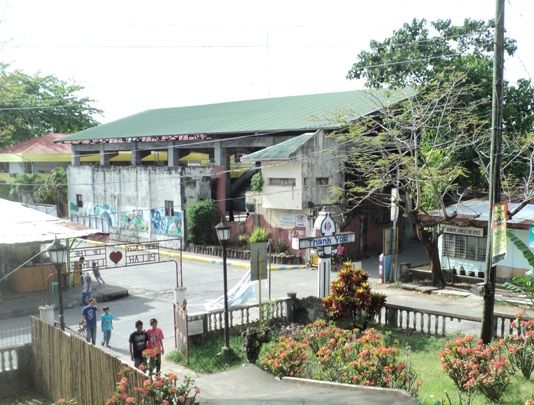 And this is the port, which is what we stared at for four hours.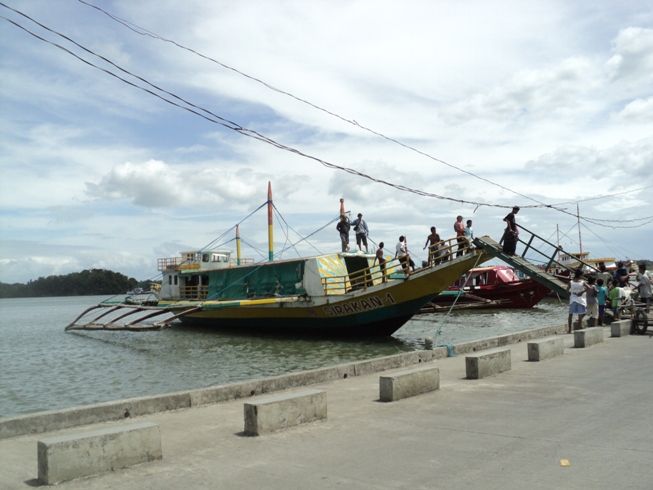 We did find a church, small and barely polished, but still worth adding in our collection of Philippine churches. A mass was going on, it was a Sunday afternoon. I listened to the priest conduct his homily in Bicol language. I am amused at the fact that we have so many dialect here in the Philippines, when I hear people in the background speak in their native dialect, I can't help feeling I'm in another country.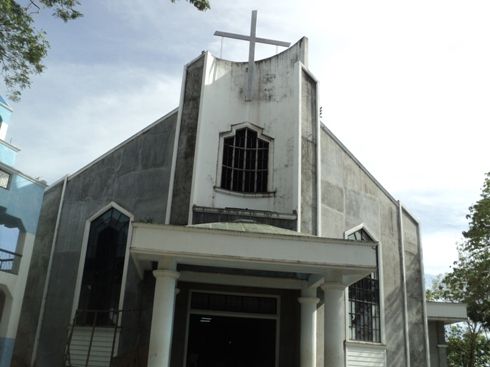 Man, that was probably the longest 4 hours of my life, with nothing to do nor check, I started taking pcitures of stuff that made me ask "
what's this?
". Che and Janet were joking that I looked like some kind of an inspector with my photos.
I also attempted to do a dance dare for
@theellenshow
, but I proved to be gutless to actually do it (next time Ellen!). I'm glad I had friends to wait with. Janet was lucky enough to take a nap even while sitting, while Che and I were left to chat and banter one another. The whole time, we were joking that our friendship meter would drop low because we always disagree on so many issues. Oh our friendship is indeed is one of the wonders of the world! Having a smartphone was also a bliss, I got preoccupied with my Facebook and Twitter updates, I also got the chance to check what to see in our next destination, Masbate City.
At 15 minutes before 4, we were asked to board the boat. It was my first time to board a fastcraft ship, and boy I didn't know that it was a little cramp inside. I got a little claustrophobic when I settled to my seat, the first thing that I looked for was the emergency exit. All crazy things swarmed through my head --
what if we hit another boat? What if our engine messed up? What if there's a fire? Where are the life vests? Oh my God, I'm gonna throw up!
I am not a good first timer of such stuff, the negative scenarios always win over my mind. I wish I could think otherwise, but sometimes, I have no control on what pops into my brain. The good thing about it is, I prayed all throughout the 2 hour trip for a safe and sound arrival. And that was what we got, surprisingly, I didn't throw up. God is good after all.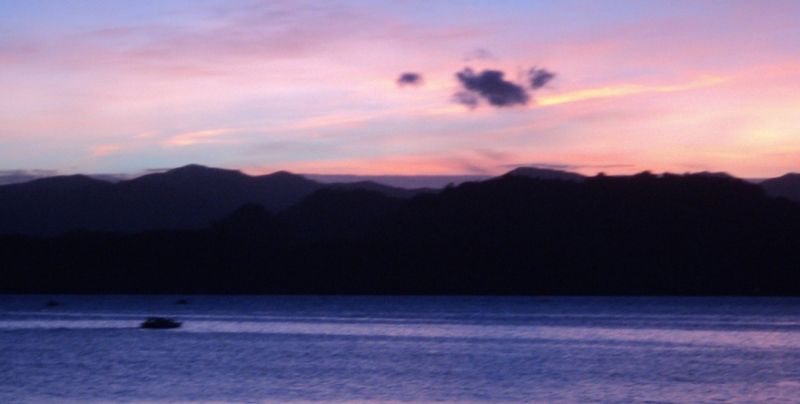 We arrived at around 6:00 PM. We got a nice view of the dusk when we got off the ship. The first thing we looked for was a tourism flyer or anything similar, but we were unsuccessful to find one. We then scoured for an inn to spend the night. I was dying to take a bath! While walking, it was delightful to see bunch of old houses, but because it was almost night time, I didn't get decent pictures. We checked a couple of hotels before settling in to Sampaguita Inns, the room rates were far less expensive than the ones in Donsol, that alone said something about the tourism state of the city. After taking a bath, we decided to have a fine dine-in. We asked the hotel staff for a recommended local restaurant and popular tourist spots in the city. But they were clueless. When we asked for the interesting places I saw on Wikipedia, they had no idea what we were talking about. I find it really sad, when people are not aware of places of interest of their native land, I thought, what kind of pride do these people hold for their hometown? Maybe they weren't really homegrown of Masbate City, perhaps they just moved in a month ago, who knows. I saw a map of the province in a bulletin board, posted in the inn's cafeteria, with pictures of popular spots. We checked it out and asked some old men dining in. They were helpful in giving information, but we realized that most spots are situated very far from the city. We managed to learn two places to check for the very limited time we have the next day.
We headed out for a sumptuous dinner. The inn keeper did recommend a local restaurant whose name sounded "mainland", but it turned out to be "Minlan" or something like that (I forgot). The place didn't have a festive ambiance as I would have liked when going out for a food trip, but the grilled blue marlin was really good (it was the only thing I remembered). After dinner, we stopped at a local coffee house, whose name I also forgot, but it carries a tagline as "the coffe place to be". It's been a while since I've had coffee, and I'm sorry, but the coffee I tasted didn't live up to its tag line. I mean it's not bad, but definitely not something my palate can cherish.
To be continued...