I normally spend my weekend bumming out, sleeping most of the time. I knew I need it as I barely get enough sleep during weekdays. But this weekend was a busy one, and as Christmas comes closer, I expect the succeeding weekends to be busier.
But let's talk about this weekend. Last Saturday, I attended the 25th anniversary of Toei Animation Philippines. I believe that I have outgrown the fandom and that my main reason for attending otaku events is to be with my friends. But then there are things from the community that I still cling on to, Toei is one of them. For one thing, a lot of the earliest anime and sentai series I've watched were produced by Toei. Having that said, I expected the event to be a nostalgic experience for me. The place was a really good choice, It's always great to attend an anime convention outside Megatrade hall. We didn't have to fight for a space to come through, there was no struggle to breath, the weather was great and the cozy atmosphere of Eastwood set a really good mood, in short, I love the venue, I should have worn a nicer pair of shoes! The ticket was really good too. I make a big deal out of it because I keep tickets for souvenir, and I have to say, their ticket is one of the best tickets I've gotten so far.
One of my disappointment though, is the fact that there's not much to be seen. I mean, we're talking about one of the biggest animation studio in Japan, I know for a fact that there's more to Toei than Dragon Ball and One Piece. There were very few exhibits to check, like probably six or seven booths and checking them out would not take more than 15 minutes (all of them). I like the dioramas though, I only wish there were more. I didn't see anything different on the cosplay activity. There's a photobooth with a long queue, It would have been better to have booths that have interactive activities. Then I wish there were merchandise booths, even if it's only Toei related, I've no problem with that, I'm sure there's a market for Toei merchandise, I mean, I'm sure somebody would be interested to get a Galaxy Express 999 music box.
Cosplayers nowadays are really creative and particular to details and accuracy of their costume, which is great. There's a lot that I don't recognize, but that's barely my concern. I have seen 2 group cosplay skit that I really enjoyed, Daimos and Voltes V. But I didn't bother to see the others. My appetite for cosplay have long dwindled, but there were still cosplayers that got my attention.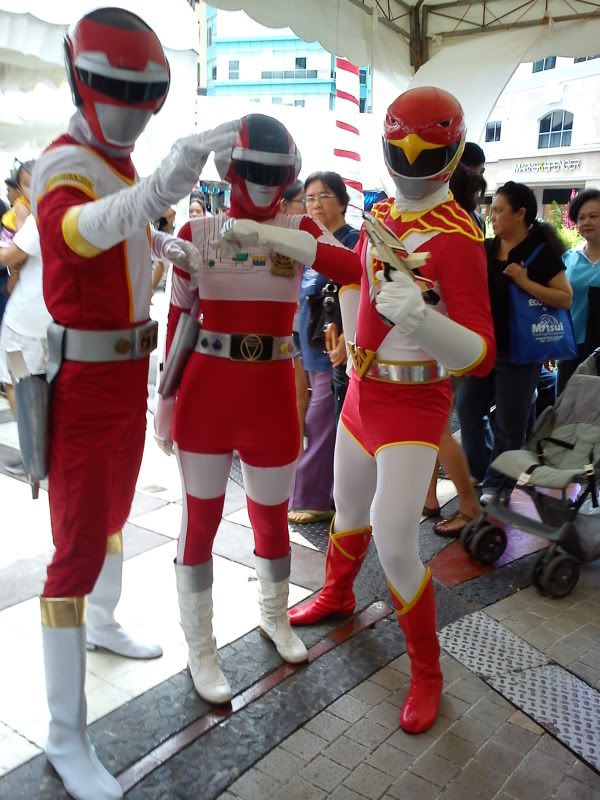 I couldn't help staring at their crotch to check the bulge. Don't get me wrong, I'm not a pervert, it's just that they are always flat on the actual series and I always wonder if the actors under the suit are really male. I know that the one cosplaying Red One is a female.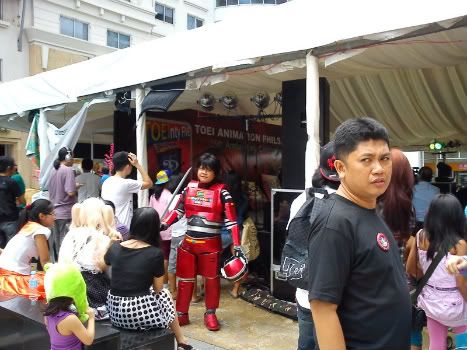 OMG! This guy has been cosplaying that character forever!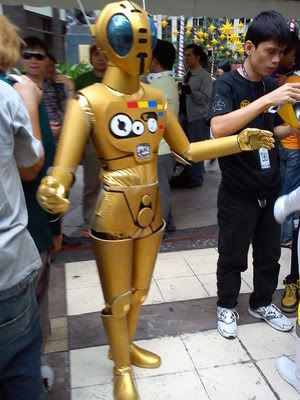 Who doesn't know Peebo? Who?!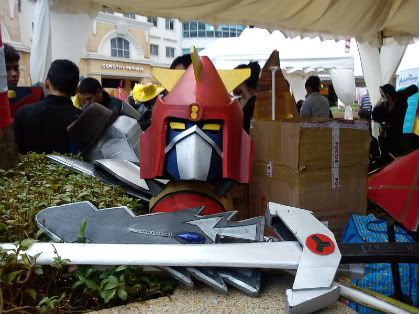 I want to steal it!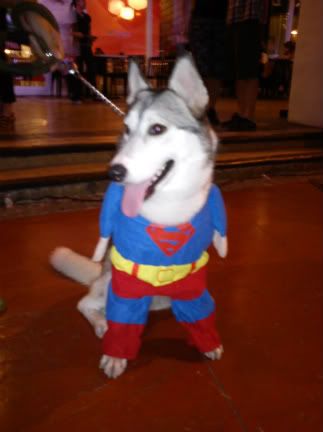 If you ask me though, this handsome little guy is my favorite!
Of course, my friend Nagi, once again fulfills her Sailor Neptune dream cosplay :). Too bad Sailor Uranus is not around :(
My biggest disappointment was the float parade. It was the activity that I looked forward the most. With a cash prize of P100,000, I wish the contestants put more effort and I wish there were more contestants. The were only 3, get that 3 anime floats, and one Toei (studio) float, and none made my eyes expand or made me exclaimed wow! All of them looked like they were done by amateurs, I got that impression even though I looking from afar (really far). Our town festival's floats are far more amazing (and I live in a small town).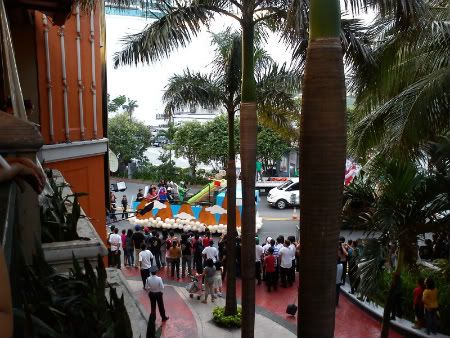 Dragon Ball float
But I have no complain. The event was free. It seems to me that organizers operated on a limited budget. I cannot remember seeing any sponsors. I do hope that the areas for improvement I've mentioned would be considered for the 30th year celebration. I hope they'd be more creative and get ample financial support next time.
The best part of the day, or any event I've been to, is hanging out with my friends. Chris, Nagi, Aish, Duston and Shamsa came. Like always, a day is never enough to hang out with awesome friends. We ate Takoyaki at a mini food court nearby. It was really good, the sauce reminded me of the Okonomiyaki I ate in Little Tokyo. The octopus meat was pretty big, I didn't get to see the actual meat in most of the takoyaki I've tried. We spent the rest of day at Aish and Duston's apartment. Duston made some brownies which was really good too. Shamsa was surprisingly hyper at home. She's friendly but normally quiet outdoors. This time I saw her screamed and laughed a lot and it was really heartwarming whenever I'd get a hug from her. Awww... We ended the day with a game of "which do you prefer" and "what's you top 3" which was fun. I got home past 2 am, I was so very tired I didn't get to brush my teeth before going to sleep. Ugh!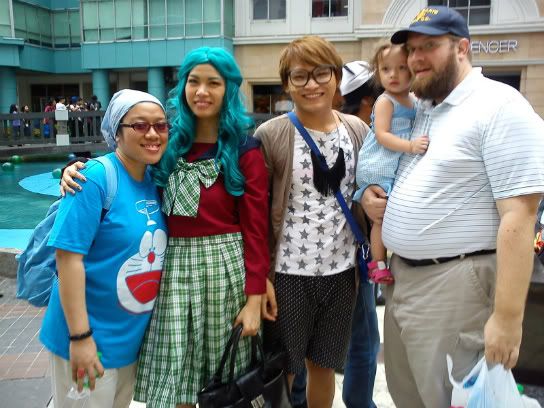 The next day, I woke up mid-afternoon and got a text from my elementary and highschool classmate Fati, reminding me of a lunch date with our other grade school classmates. Shoot! I have forgotten about it, I would have wanted to stay home but I have committed that if it was set on Sunday I could come. So I did. I thought I needed it too. I know so little about my gradeschool and highschool classmates. Reunions are the only venue I get to be updated. I need to be more connected.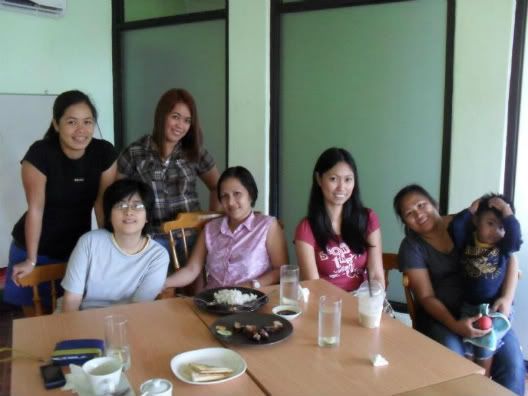 This is the second time I attended a grade schooler' get together. We had a coffee then had little coldies session. It turns out to be more fun than I expected. I am aware that I'm different from my classmates, but I get along just fine. I have very little memory of events from grade school, I was a loner and I got bullied, it was a sad part of my childhood, but I'm glad that I didn't harbor hatred to my bullies to this day. I have not forgotten them but I have forgiven them. I have no problem attending reunions like this, I'd like to be updated, what are they now? Where have they been? I just wish there are more attendees next time.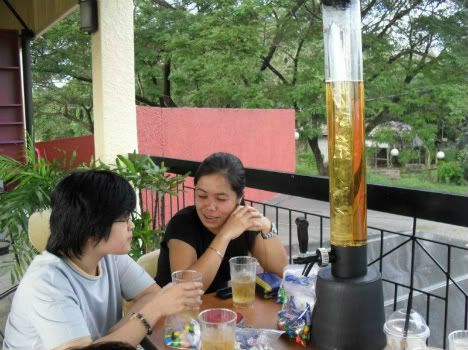 When I got home, there was a celebration at home. It was my late Uncle Al's birthday, my cousins from Pasig came to celebrate. There were too many food, but too little space left on my tummy. I ended the day with a mass. Yesterday was the lightening of the first advent candle, this is the official start of Christmas celebration, which reminds me, we need to start putting up the Christmas tree and lights.
It was a tiring weekend indeed. But I am thankful. I have this exhausted body, but then I have this energized soul. Rawr!