Ghibli Museum
You know when they say "save the best for last"? Well, there's a reason why I put Ghibli Museum on the last of the list. I am a huge fan of Hayao Miyazaki and Studio Ghibli, it was such a fulfillment to finally come here. I can't remember how long have I been looking at pictures and videos on the internet before even coming. A friend told me that I'm gonna miss the "surprise factor" and I didn't care, still the feeling I felt when I made it inside the museum is something I can't explain. It was magical.
I know Totoro is the superstar here, but can you find the soot balls?
It was probably, no, definitely my favorite part of the trip, that even though this is a compilation of my trip's highlights, I decided this one should get a separate post.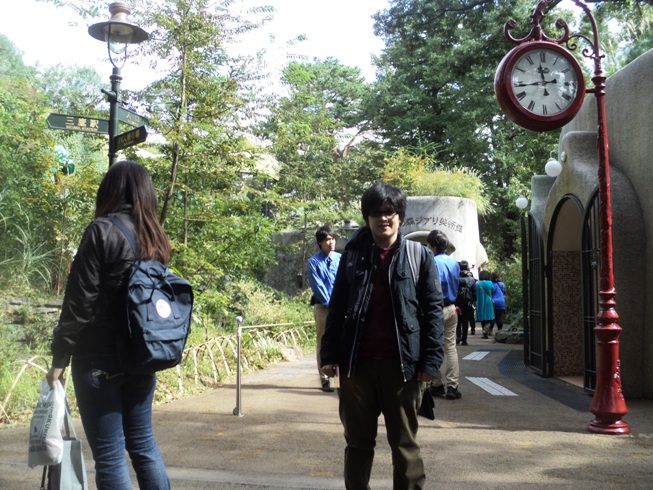 The entrance door of the museum
Let me just say, for one thing, getting a ticket to the museum is not easy for somebody living in the Philippines who has no close friend or relative in Japan. It's not sold in the museum, you have to purchase it on a kiosk called Loppi at Lawson combini (only in Japan). I thought of getting one when I get to Japan but the museum is very popular, it limits 200 visitors a day, I probably won't get a slot for the time I'm staying if I do that. I could make it easier by joining another tour but it's way more expensive and I didn't like my visit to be time-bounded so I looked for other options. I tried to ask the staff of the hotel I booked if it's possible to buy a ticket on my behalf and I'll just pay when I get there. They politely decline as it is something beyond what they can do. Thank God for the internet, I found a better option -- a shopping agent!
Bridge.Jpn
offers a proxy buying service in Japan, they bought the ticket for me for a fee but still a lot cheaper than joining a tour. I asked them to send the ticket to my hotel then I picked it up when I checked in. You don't get the actual ticket by the way, instead you get a reservation ticket, when you get to the museum, you hand it to the entrance counter then they'll give you the actual ticket. The complexity of the ticket procurement process was worth it, the ticket itself is a keepsake. It has frames of an animation film as ornament, lucky me, I got one from my favorite anime film!
Photography inside the museum is prohibited and I am not sorry for this policy. The principle behind is for one to enjoy the experience through eyes and senses rather that a camera's lenses. To take the unique experience as a special memory not even a camera would capture. I have so much respect for Miyazaki I gladly abide the rules. It's okay if I can't take images with me, because I'll definitely see it again.
The building and the interior of the museum was designed by Hayao Miyazaki himself using drawn storyboards, and I know he's a genius, but oh my God, when I think about the interior and the landscape of the museum, I have no words. Just like his films, there's a strong European architecture influence. Everything in the museum is intricately decorated, you know when I say that Japanese put art into everything, well, this one is taking that notion to the next level. I don't know if I have stressed this enough but I have no words, that's how amazing this place is. And let me tell you, I've never seen a more beautiful and elegant toilet in my life.
The first floor showcased different animation techniques. Be prepared to be enchanted and get some goosebumps. I looked at the display and suddenly I understood why I prefer the traditional animation than CG animation. The gallery is graced with Joe Hisaishi's amazing music. It really gave me that feeling of being transported in another world. Some displays are interactive, child and adults alike are welcome to play. It was so fun, it would surely bring out the child in you. The Saturn Theater features Ghibli short films, you can only watch once, the film I saw was
Hoshi Wo Katta Hi
. My only dilemma here was the absence of subtitle. I am not that fluent in Nihonggo. I did get the context of the film through the scenes and few familiar words I caught, but I still would want to understand everything.
The second floor features a mock-up animation studio to show how Ghibli animators work, this is also the part where artworks of Studio Ghibli films are exhibited. Another wing of the second floor is for the special exhibition. This year they are featuring "The Lens at Work In the Ghibli Forest". Basically it's a showcase of functions of lens and the magic they create. I was so fascinated and inspired by it, I started collecting small viewfinder toys (not to mention I own a view master and a stereoscope prior to this trip).
The third floor has the Museum Cafe, Mamma Aiuto (souvenir shop), Trihawk reading room/bookstore and surprise, surprise, the
Tonari no Totoro
catbus. It's still inside the museum, but this I couldn't resist taking a photo. The only disappointing part here is, adults are not allowed to get in or play with it. Strictly for kids only. How unfair is that?!? I heard there's for-adult version of this one somewhere in Tokyo, but I didn't really have the time to check it.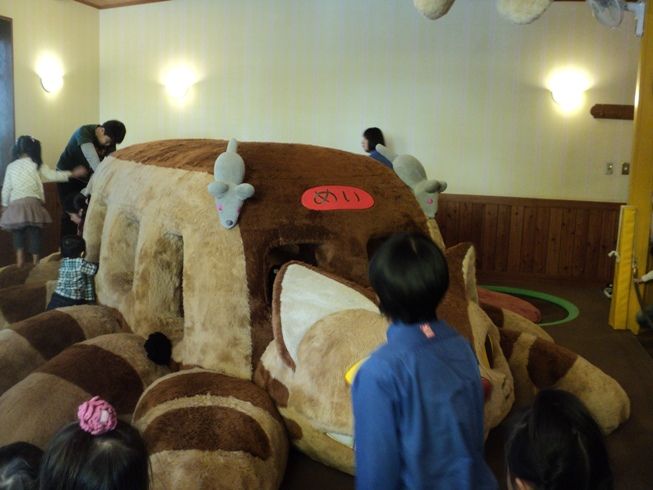 I didn't get to taste the delicacies at the cafe because of the long queue, I didn't want to spend too much time waiting for my turn to buy food. But there was a hotdog and ice cream counter for express orders, I lifted all my diet restrictions for this trip so I settled with hotdog and ice cream.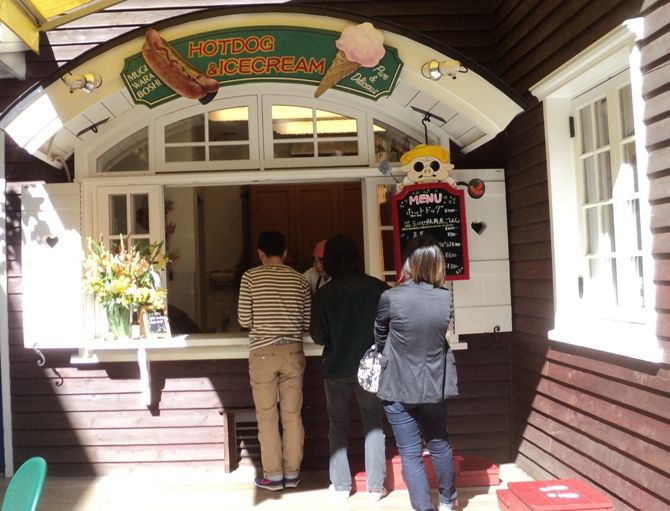 They do allow pictures outside the building, The most photographed part of the museum is probably the robot soldier, the sculpture in the middle of lush vegetation is perfect. There's also a replica of Laputa's floating block. It was cool, but it's the not really the best spot to hang out on a sunny day.
I didn't really anticipate spending too much and I was doing great the first 3 days until I entered Mamma Aiuto, the museum shop. A lot of Ghibli novelties here are not sold anywhere, Ebay sellers make a lot of money out of it, they mark up the prices too much. I figured, it's better to seize the opportunity to buy souvenirs. They were expensive but still cheaper than buying online. I bought cookies, t-shirt, a glow-in-the-dark Kodama flower vase, a stereoscope and of course a music box.
Princess Mononoke music box and a Kodama flower base (no flowers yet)
I wanted to stay longer but I had to go as it was getting late. I've already said it early on, but I'll say it again, this was my favorite experience in Japan, I highly recommend it to everyone, even if you are not a fan of Ghibli works or anime. As for me, I can't wait to go back!