This airport misfortune happened more than a week ago, I do forgive but I don't forget. There's no way I'm letting Cebu Pacific go off the hook that easily. I have to tell this awful experience and let this be a lesson, if you're flying somewhere DO NOT choose Cebu Pacific Air.
Cebu Pacific is the WORST airline ever!
It all started with a book drive project that my friend, Che, initiated, the
Booksail Project
(I'll post more about this project soon). It's been on the planning for months, we've been collecting books and school supplies to benefit the children of Palumbanes Island in Catanuanes. We planned on the itinerary and logistics, we selected a date to turnover the donations, we decided the group would come in 2 parties. The first group will take the bus and endure a 14 hour travel period, the second group will take the one hour plane ride. Obviously I chose the second option, I felt that time and well being are much more important than what I would save from the bus trip. So I booked a flight to Virac Catanduanes, to my ignorance, I chose Cebu Pacific Airlines.
I anticipated the trip with pure excitement, Che and I would talk about it on our coffee breaks. I often joked that her group is leaving Thursday afternoon, while I'm scheduled to leave the next morning, yet I'd end up waiting for them in Virac. Or so I thought.
I was scheduled to leave on early Friday morning, June 21, 5:45 AM. I slept over at Nagi's place, woke up at 3:00, we ate breakfast at 3:30, I hailed a cab and left for the airport at 4:00. I arrived in the airport at 4:15, there was no queue at the entrance, I made my way to the check in counter. Everything was going smooth and according to plan until a few minutes in the check-in queue, I noticed a commotion among the passengers at the counter. I thought those passengers had a problem with their baggage or something, but nothing that concerns me. But then it turned out to be a problem for ALL the passengers bound for Virac.
THE FLIGHT WAS CANCELLED.
Yes, we all learned about it right there and then, some passengers behind me held out their phones and said they just received a text message to inform them of the cancelled flight. RIGHT THERE AND THEN. I, of course, was shocked and upset beyond believe. How can it be? I always talked to Che that she should have a plan B in case something happened, like a bad weather, but I never thought of making a plan B for my own mishap.
A staff approached us to officially inform and explain that it's an "aircraft situation" and provided options. Listen carefully, this is Cebu Pacific's brilliant plan B's for the cancelled flight. The first is to cancel the booking, get a full refund, and re-book for the earliest next flight, which was Sunday. There was no way I'm taking that because our group was scheduled to turnover the donations on Saturday, plus we're all leaving the coming Monday. The trip was for a volunteer work and not for a vacation, I cannot afford to put off my departure. The second "brilliant" option is to take the earliest flight to Legaspi City, we will be taken to Tabako port and ride the ferry bound for San Andres, Catanduanes (from there we can take a Jeep bound to Virac). We will be given P500 to cover the boat and jeep fare (and lunch) AND as a compensation for the INCONVENIENCE, they're giving a free one way flight to any domestic destination. Sounds enticing eh? Let me just digest this situation into further details, just to give you an idea.
So you see, the red line was the original flight, the yellow and orange was the 2nd option Cebu Pacific offered, simple eh? NO! In the flight I booked, I was scheduled to depart Manila at 5:45 AM and arrive in Virac at 6:55 AM. In the rerouted flight they offered, I will take the 7:20 AM flight to Legaspi City, will arrive at 8:30 AM (this schedule was not followed either), take a one and a half hour shuttle ride to Tabako, ride the 1:00 PM ferry trip to San Andres, it's a 3 hour boat ride mind you. I will be a little nicer and dismiss all the inconveniences that came with it, but here's the part that really annoyed me to the Nth level. From 6:55 AM, my arrival schedule was stretched to 4 PM. I was supposed to wait for the other party, but the tides were turned, they had to wait for me. I had to endure a NINE HOUR trip to Catanduanes. NINE FUCKING HOURS!
NINE FUCKING HOURS y'all! That's a one full work shift and the recommended amount of sleep. I looked at the other passengers with really huge baggage and I thought, they could be balikbayans who were gone for so long, they were just robbed of nine hours of quality time with their loved ones. They say time is gold, NO, time is priceless. The one way free flight was nothing close to a compensation. There's no way you can pay off for that lost time.
The worst part was being all by myself through the whole ordeal. When I was talking with a Cebu Pacific Staff, I was wishing so hard that Claudine Baretto's spirit would take over my body so I could pull off my own version of Thrilla in NAIA. When I called Che to inform her of my situation, she told me to demand, I have every right to do so. But I couldn't do it, specially when I'm all alone. I could only walk away while throwing my fists in the air and mutter profanities that would make my late grandma roll over in her grave.
When I was at the boarding area, I got a little preoccupied with the game 7 of NBA finals, I jot down some observations in my journal. I time-stamped announcements of delayed flights and gate transfer of Cebu Pacific, until I lost count. My now 7:20 flight even pushed further, I noted boarding at 9:26 AM and lifting off at 10:06 AM. This is not a surprise though, ask any frequent flyer, Cebu Pacific has a notorious reputation with delayed flights!
I do not blame the airline for cancelling the flight for having an "aircraft situation". Safety must come on top of everything. But I'm upset that the options they gave us are the best they could come up with. They claim to be the country's largest airline, surely they could make things better. I heard that some airlines would actually take the responsibility of booking the passengers with closest flight from other carriers. Or what about a back up plane? And perhaps the service could be improved, after making me sign a waiver for taking P500 from them, they just left me on my own. They were supposed to give us free breakfast but nobody gave me instructions how to claim it, that I should watch out for their announcement. Why not take me to the fanciest eatery in the airport and make me feel comfortable while waiting for the flight to Legaspi, why not give me a riveting book to keep me from looking at my clock every now and then to count off the remaining hours I have to wait, or a travel pillow to help me rest and lessen the inconvenience that the prolonged trip had to offer. I could go on, but the point is, Cebu Pacific's plan B's suck!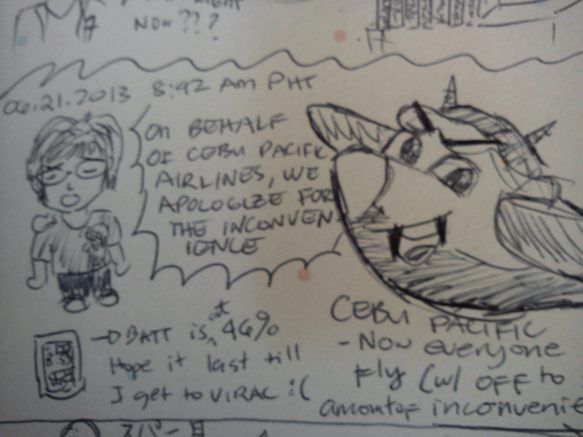 Doodling my frustation: Cebu Pacific - Now everyone can fly (with off the scale amount of INCONVENIENCE)