It's summertime! There's no better way to kick off the season than getting away from the busy city. For my first break this year, I went to Bicol, the land of Mt. Mayon, abaca, Pili nuts and more!
It's not entirely planned. My friend Che, who also happens to be a Bicolana, invited me to join her in fulfilling one of her 2012 bucket list - to swim with the whale sharks, locally known as Butanding. While it's not in my own bucket list, I've always dreamed of sailing with the whales. I have a thousand piece jigsaw puzzle of Orcas dancing with the moon (which I proudly completed all by myself, it was tough y'all!) displayed in my room. It glows in the dark and at night, when I look at it, I imagine myself sailing in the sea, watching the whales and listening to whale songs. Of course the Butanding is not a whale (it's a shark, a gentle shark), but it looks like one and it's the closest I can get in fulfilling my childhood dream. In fact I decided that the first Butanding I'd see, I'll name Keiko, in honor of the Orca who played Willy in the film Free Willy. Our friend Janet joined the trip, also, to fulfill a long dream of swimming with the whale sharks.
So the main destination is Donsol, Sorsogon -the whale shark capital of the world. To get there, we flew to Legazpi Albay. Before taking the passenger van to Donsol, we took a short tour around Legazpi City. I was just as excited to get there because of Mt. Mayon, the prominent volcano known for its perfect cone shape. This crowning jewel of Bicol is visible all over the province of Albay, it's like a portrait of Big Brother, you cannot get away with it (as Che puts it). The moment I got off the plane, this majestic beauty immediately loomed at my sight. But I was a little disappointed when the annoying stratocumulus clouds conquered the sky and I couldn't see the symmetrical cone shape of the mountain.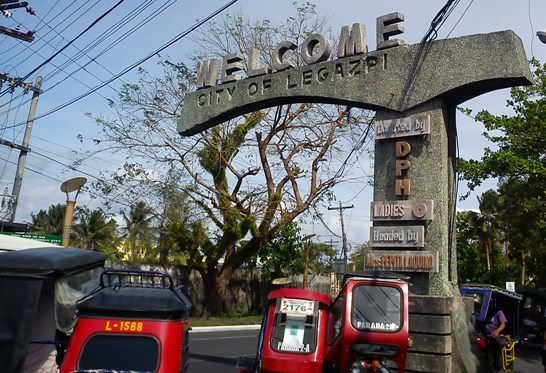 It was just time for lunch when we arrived so Che took us at a local fast food, Biggs. It's a vintage themed place, the meals are a little pricey, but I didn't really mind since I enjoyed the food and the interior. I especially liked the iced tea and the cheesy potato. While scanning the place, something caught my attention --what do you know, there was a music box! I was (extremely) delighted to see it, too bad it's no longer functional.
Like any other trip, we made a stop to the church. St. Gregory the Great Cathedral is the Episcopal Seat of the Diocese of Legazpi and is one of the most prominent landmark of the city.
I can't remember if we took a trike or walked to get there because I remember passing by a park and the capitol building.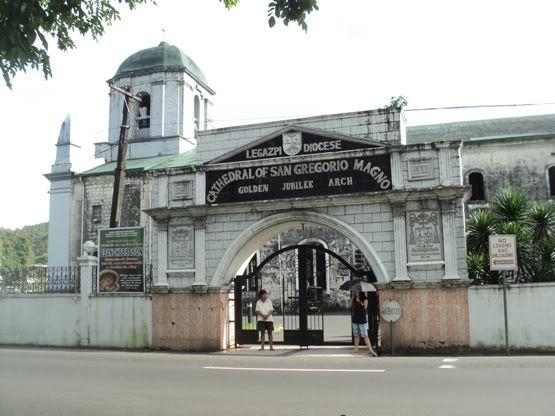 Next we went to Cagsawa Ruins in Daraga, Albay. A visit to Albay would not be completed without going here, in fact, my image of Mt. Mayon is always coupled with the belfry. The remnants of the baroque church, destroyed by the most devastating eruption of Mayon in 1814, is a symbol of the dangers of living near the vicinity of the volcano. I was hoping to see a classic postcard sight but thanks to the weather, I was reminded that I can't be spoiled and get everything I want. While taking hopeless shots of the backdrop, it rained and we were forced to take shelter in an orchid's stand. The lady who owns the shop was very nice to accommodate us even though we're not buying anything, but I thought it was weird that my friend was speaking to her in Bicol (language) and she kept on replying in Tagalog.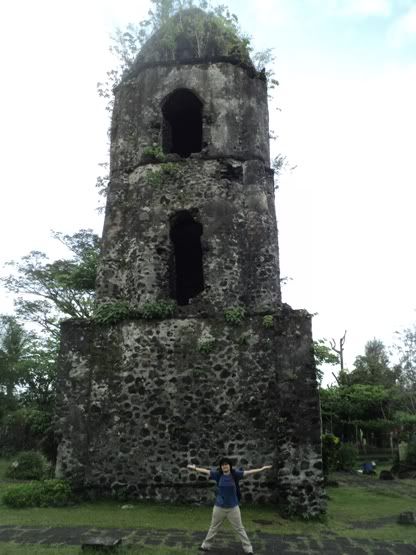 Our next agenda was to try the locally famous DJC Halo-Halo. Halo-halo by the way, is a Filipino desert, a mixture of crushed ice, milk, leche flan, purple yam, tapioca and anything sweet that you can throw in. My friend constantly raved how the DJC Halo-halo stands out among any other halo-halo in the Philippines. I'm a big fan of deserts (unfortunately, it's taking a toll on my waistline huhuhu) so I was eager to give it a try. After ordering and waiting, the halo-halo was finally served and so we indulged. The ice was finely crushed and it gave a smooth texture to the mixture

. The leche flan and the purple yam were really creamy and tasty. What made DJC Halo-halo different, in terms of ingredients, is the presence of grated cheese. I thought it worked really well with other ingredients, it made the whole eating experience not overwhelming with sweets, there was something to restrain too much sweetness. But after a halfway consumption, the taste gets old. It tasted like any other halo-halo. Maybe it was the presence of the ice cream. I never wanted an ice cream on top of my halo-halo, they are two different deserts that are not meant to be together. I ended up not finishing my cup but I'd like to give DJC halo-halo a second chance, next time, without an ice cream on top.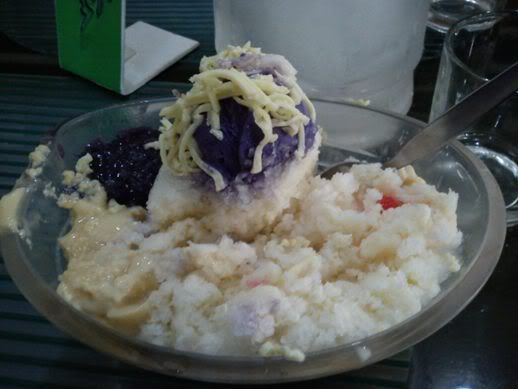 After the halo-halo, we headed to the terminal and took the van going to Donsol. It was the last trip van and we were short of one passenger and the driver would not take off unless we (with other passengers) all agree to pay P100 each instead of the regular P75 fare. There was also a drivers strike going and I'm not sure if that issue is related to the driver's demand to increase the fare, but it made me feel bad about any drivers strike held in the country. I mean, we're all frustrated,
except Petron, Shell and Caltex,
when the oil price goes up. I thought the real enemies are the oil companies, but when there's a drivers strike, the ordinary commuters are the ones who get affected. I wish we could find a way where we can all be united and protest the greediness of not just the oil companies, but other corporations as well, without causing setback to each others' daily responsibilities.
Anyway, after the long wait, the driver finally took off. My energy meter drastically dropped by then. My brother's priest friend, Fr. Eric, is currently the parish priest in Donsol. He knew that I was coming with my friends. We'd been texting each other prior to our trip, he really wanted to accommodate us in the convent so we won't have to pay for board and lodging but he was so busy with parochial activities at the time of our visit so he didn't get to attend to us. But he was really helpful in arranging our accommodations. He arranged for us to stay in Shoreline Beach Resort and we got huge discount on the room rate. When we arrived in Donsol, we met him by accident, he also just arrived from the town's people's pilgrimage in Naga. He hailed a tricycle and endorsed us to the driver to take us to Shoreline. When we get there, the inn keeper were already expecting us and immediately referred us to our room. It's a big thing to have someone you know in faraway places.
We checked the beach then we had a little drink and chat before going to bed.
The room they gave us had huge beds, it's good for 5 people.
I'm not the type who rolls all over the bed when sleeping but having a king size bed all by myself is love! I've always wanted to have one, but it's not gonna fit in my small room, I could only put up with my single bed. I got up about 5:30 AM, I went outside and walked around and got a more vivid view of the sea. The beach has black and rough sand (probably because of volcanic emissions), it's nothing close to being fancy, not some beach that a tourist would want to sunbathe to. It was very clear that the purpose of the beach is mainly for docking boats.
I received a message from Fr. Eric, reminding us to go early to the tourism office to register and pay for the whale shark interaction activity. We immediately had our breakfast and headed to tourism office. We got there before 7 AM but the place was already jam packed. Aside from Boracay, this is one of the place where I saw more foreign than local tourists, but there are more

Caucasians

than Koreans this time. I thought the office needs improvement on the registration and dispatch system. It was a little disorienting. Maybe having directional

signage would help, something similar to what I see in DFA when getting a passport. W

e initially approach a desk we thought was the registration counter. We were surprised that the boat will cost us P7000 (US $163) we were informed that it was only P3500 (US $82). It turned out that it was for island hopping and that the registration office was further
ahead. When we got there and registered, we were informed that we'll be included in the 2nd batch of boats which will dispatch around 10-11AM. We got worried because we had to catch a fastcraft boat trip to Masbate by 12 NN. Fr. Eric gave a contact person to talk to but she wasn't around yet when we came so we had to fend for ourselves. Luckily, we were able to find boat mates who are scheduled for the first batch dispatch.
Debbie and Sam are British who currently work in Sydney Australia. They are having their vacation and this was their first time in the Philippines. It was great to know they are having a great time and they seem to like the people. They said Filipinos are very friendly, of course we are! So we split the boat rental fee of P3500 into five and paid our dues, including registration fee then watched a Donsol video presentation, as required, before embarking on the sea.
The video presentation gave an introduction to the place and whale sharks. It also provided the rules and guidelines during interaction. Each boat is accompanied with 2 boatmen and a Butanding Interaction Officer (BIO). The interaction time is 3 hours, once we spot a whale shark we are can stay in the water for no more than 8 minutes. Tourists can swim with the whale sharks at distance of 3 meters. Only 30 boats are allowed to embark for the first 3 hours and only 6 person can interact with one whale shark. If you get caught violating these rules, you will be escorted back to the shore and won't be allowed to go back to the sea. It's good to hear that the activity is regulated to ensure the well being of the whale sharks.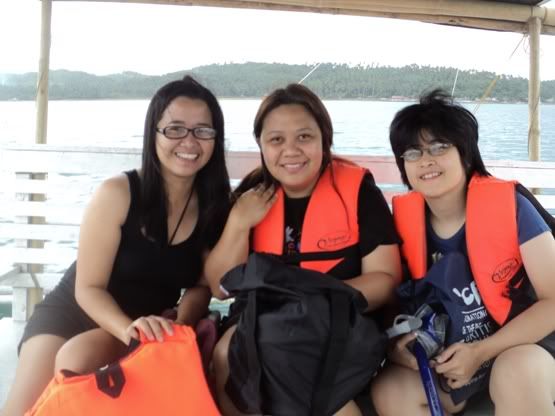 After watching the video, we set off to sail in the sea. It was a cloudy day and the result looked bleak. We were told that even though it was the peak season of the presence of whale sharks (February-May), there's still no guarantee that we can spot one. I've known some people who've gone there and didn't spot a single whale shark. All those times, I was praying that we'd see even just one. Oh Keiko! I frequently muttered. When the BIO instructed us to get ready with our gears, we got excited. It was a positive sign. We seated in one row at the edge of the boat to get ready to jump. But we still have to wait for the BIO to tell us to jump off. The anticipation kept mounting as we see other tourists jumping off from their boat. I heard scream of delight from them and I was like, "why are we not jumping off yet?" Our boat kept sailing away from the shore and when the boat sped up, our excitement went up. Then finally, the BIO told us to wear our masks and get ready to jump off. OMG! THIS IS IT!!!
To be continued...