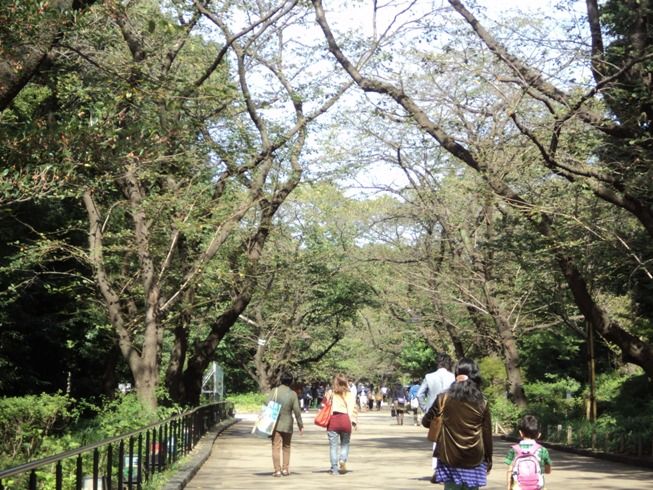 If this picture was taken at this time of the year, the shades of green you see would've been shades of pink. It was taken 5 months ago in Ueno Park, the most popular public park in Japan, famous for its Sakura trees. It is also home to many cultural facilities and major museums. During my travel planning stage, I made sure to include Japan's national museums in my itinerary, I set aside a full day in Ueno Park. Little did I know that a day would not be enough.
The park is easily accessible, only a five-minute walk from Ueno station and since it's a major tourist destination, you won't have to worry about getting lost. There are signages everywhere to guide you, plus, most of the people are headed there. Feeling like a cultured person, I intended to visit 3 musems - the Tokyo National Museum, National Museum of Nature and Science, and the National Museum of Western Art. There was a slight change of plans though.
Naturally, I am against the captivity of wild animals for recreational purposes, that includes zoos and marine parks. Ueno Zoo came up many times when I researched Ueno Park, but I always ignore it. I was firm to keep it out from my itinerary, but... some things are really easier said than done. The temptation and curiosity to see a Panda in person was just too much for me. There were images of Panda all over Ueno, it's like the official mascot of the park. It also didn't help to pass through the zoo on my way to the museums. A war went through my head. I wanted to see a Panda in the wild, but there's not a chance that I'd be going to China anytime soon, and who knows, maybe never.
I am still human, flawed and a slave to my desires
. I thought of every possible excuse - I could use this experience for future research, and whatever I observe, I could use to educate people. Eventually I gave in, guilt ridden and remorseful, I bought a ticket to the zoo and made my way in.
The Ueno Zoological Gardens opened in 1882, making it Japan's oldest zoo. It covers approximately 14 hectares and houses 3000 animals of 500 different species, but the most popular, without a doubt, the superstar of park, are the two giant Panda from China, Lili and Shinshin.
I didn't get a full access to the museum, special exhibits will cost me more, the regular admission covers the highlights of Japanese history and culture while exploring the chronological development of Japanese art. It pretty much has anything you'd expect in a national museum - paintings, scrolls, pottery, traditional clothes, military uniforms, weapons, and any historical artifacts you can think of.
Important Cultural Property
in order to protect them. Those of superior quality and cultural value are designated as
National Treasure
. Unsurprisingly, the exhibits in this gallery cannot be photographed. This should give you an idea:
I was actually hoping to see the three Imperial Regalia - the scared sword, mirror and jewel (Yuyu Hakusho reference here hehe). Now I realize how stupid I was to hope, after all, these are the most sacred and supposedly most ancient artifacts in Japanese history.
In fact, they are kept under close guard in the strictest of secrecy, hidden in shrines far away from each other in diverse parts of Japan and are only brought together for the enthronement ceremonies of a new Emperor. In fact, they are kept in such strict and reverent isolation that, at various times, some people have wondered if they actually even exist.
I wish I have a creative way of giving a blow by blow account of what I saw here, but all I can say is, everything is super impressive. I always find it humbling to be in a room full of ancient artifacts. If you're a Japanophile, you definitely have to include this in your bucket list.
My next destination was the super awesome National Museum of Nature of Science. The museum has two buildings to separate two main galleries. The Global Gallery features exhibit on the evolution of Earth and its inhabitants, along with the history of the intelligent thought in humans. The Japan Gallery features nature and history of Japanese Islands and contributions of Japanese in science and technology.
My favorite experience was the Theater 360. If planetarium screenings amaze you, this one will blow your mind! The name is self explanatory, a movie theater in sperical 3D, a movie experience in which the viewer is surrounded on all sides by a seamless sphere of video and sound. It's definitely so much better than watching Imax 3D. The only thing is, you have to watch standing in bridge platform. Each movie lasts 10 minutes, they show 2 films for every admission. At the time, they showed "The Marine Food Chain", which explains the flow of energy from the sun to the Blue Fin Tuna, and "Deep Quest into the Inside of the Earth", basically explores the Earth's amazing interior.
The only thing that disappointed me-- it was narrated in Japanese WITHOUT English subtitle. The visuals will pretty much give you an idea what it's all about but it would still be better to get into details. The whole museum, in fact, seems to target Japanese visitors. The exhibit's descriptions has no English translation. I hope it's something they could improve on to attract non-Japanese speaking foreigners.
When I left the museum, I couldn't help feeling sad. The Philippine's lack of public facilities to foster interest in scientific studies among the youth is just one of the many frustrations I have as hopeful patriot. The Mind Musem is too expensive and while it boasts to be a "world class science museum", it is nothing compared Japan's Museum of Nature and Science.
The three destinations I mentioned above have an admission fee of Y600, foreign tourists can enjoy Y120 discount, but if you're super tight on budget, Ueno Park is still a great destination for cultural exploration. Aside from the amazing architecture of facilities surrounding the park, there are shrines, gardens, street music performance and possibly more. These things you can enjoy for free.