Okay, I promised I'd post the last part of my adventures in Bicol before I embark on another trip, that trip is a day away, so here's the promise.
The first half of our last day in Bicol covers our exploration of Masbate City. One of the things that makes it hard for me to sit down and write something about the place is, well, there's nothing remarkable about it. Now that may be too harsh to say, but I guess it was mainly because we had very little time to really explore the place. The interesting destinations are so far from one another, had we caught the 12 o'clock noon trip the other day from Sorsogon, I might have finished this series a long time ago. One thing I can tell though, being there doesn't feel like being away. Masbate City is pretty much, developed. No it doesn't have tall buildings, but it just feels like being in another town in Rizal or Cavite.
Our first stop is the Bituon beach resort, it's a private owned property, you have to check in as hotel guest to access the beachfront. But we have no plans to dip in the sea, we thought we'd just ask permission to take pictures and maybe see the sun rise, but luck was on our side, there was no one security guard when we arrived, so we took the opportunity and trespassed the property (not cool hahaha).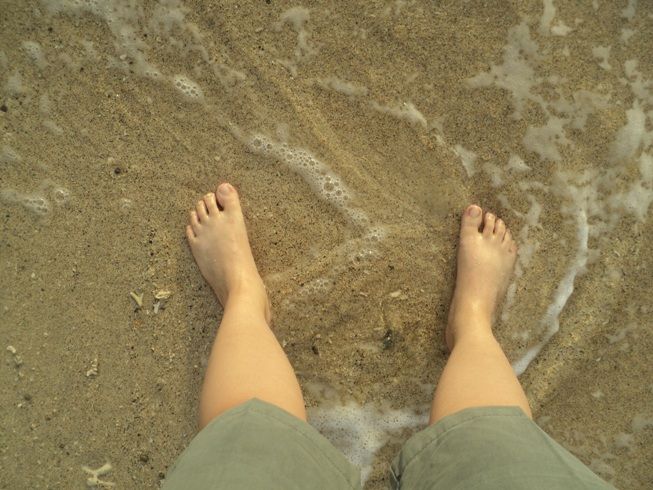 The beach is nothing special, but a walk in the sand completes my trip :)
We stayed there for about 15 minutes, when we left the premise, there was a security officer looking out, but we played it cool and acted as if we didn't do anything wrong (we just took some photos ferchrissake!) so he didn't bother to stop us. It was a graceful exit y'all! Then we checked the Rodeo Arena. Masbate is the rodeo capital of Philippines (even Asia probably). It wasn't the season when we visited, so it was just an empty space, I can only imagine the crowd and noise during the festival.
The next thing we checked is the Pawa Mangrove nature park. It's a mangrove plantation, huge and impressive, but after a while it gets boring and scary. I said boring because, there's nothing to see but mangroves. You can take a 1.3 km walk via foot bridge, and this is the scary part, it's made of bamboo, and it gives you this feeling it's ready to collapse with one false move. If I know how to swim, I'd take on the challenge of taking the board walk, but I don't know how to swim, none of my companions do, we have no life vest so at 200 meters, we decided to go back (wimps!).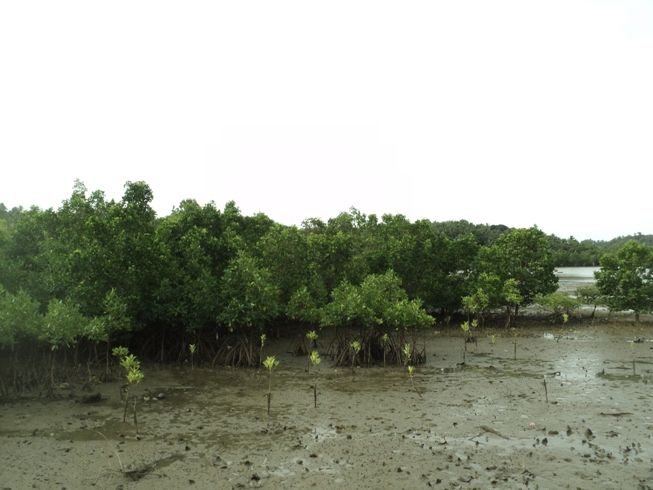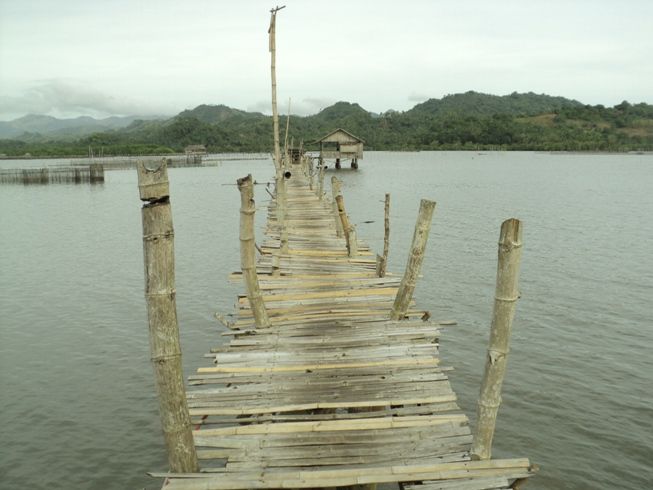 One of my favorite part of the trip is the incidental stop to the Coastal Resource Management Interpretative Center (can that name get any longer?). Supposedly, the center serves as the hub for information, education, and activity center for coastal resource management and showcase Masbate's CRM experience and from which will radiate outreach activities promoting coastal resource management in general and in particular.The center includes key components such as reception and information counter, public exhibition area, activity teaching room and library*. The sad thing is, it didn't give that impression. The place looked unappreciated with only 3 tourists from Manila looking in. There was person who attended us, and I wished we met her earlier because she seems to be the only person knowledgeable about the city's places of interest. She told us the places to see but we no longer had the time to check them.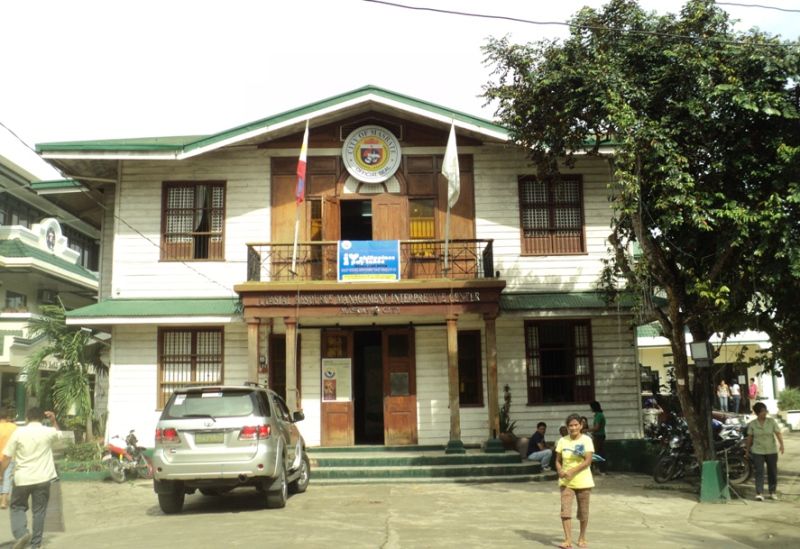 I discovered from my further research that this building used to be the old municipal hall of Masbate City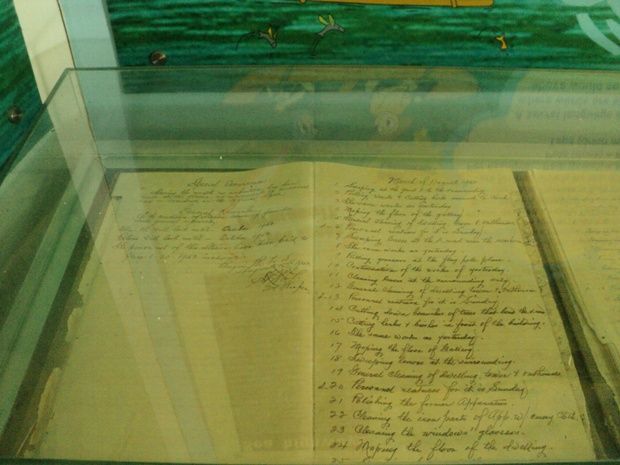 An old coastal logbook, I love archival stuff like this
We took a short stop at the church and the provincial capitol, after which, we headed back to the hotel to prepare for our departure. We came in more than an hour earlier than the scheduled trip, we cannot afford to miss this boat, I realized now that a lot of our time was spent waiting to depart *sigh*

So we were waiting and chatting, Che had an unplanned pedicure treatment (there are mobile manicurists roaming in the port!), suddenly an uncalled for preacher with a Bible on hand started preaching in front of the passengers. I put on my earphones, I was thinking he's one of those people preaching then soliciting money for "donation" for their foundation or something. I wasn't really listening to music, I was listening to the preacher, but I wanted to look like I'm not giving attention in case he started giving white envelopes, I'd pretend I didn't hear a thing and nobody would give me that conscience gripping stare. So he was telling people to repent because the end is near. He urge people to read the Bible and start getting on the right path. When he got to "the signs" (of apocalypse) part, a cynical man, who claimed to have no religion, started to interrupt him. He pointed out that those signs he talked about - the earthquakes, the super typhoons, wars, etc, had been happening even before the Bible existed. And then they bickered. In the end, they agreed to disagree. It was amusing. And then it was time to leave.
I would love to visit Masbate again someday, it deserve a second look. Next time I'd do more research and make sure everything is planned.
We were on our way back to Legaspi City, we made a short stop to the town of Daraga to check Our Lady of the Gate Church. It's one of the Baroque churches of the Philippines declared to be a national treasure. Another thing that makes this structure a prime tourist spot is the beautiful backdrop of Mt. Mayon (actually, it's on the side). Gorgeous!
We walked most of the time with our luggage on our backs. When we checked in at another hotel, we spent the next hours resting. We didn't go out till the sun start to set. It was when Mayon slowly showed it's tip to our delight. By night time, we met up Che's college friends Mars and ____ (OMG I forgot her name!). But she was with her kid who was so hyper, he probably ate more sugar than what I've hoarded from Starbucks this past few nights. Anyway, her mom was very generous to treat us for dinner and take us around the city. Legaspi is a nice city, and like what my friend told me, it would have been a really great place to settle to, if only the threat of the gorgeous volcano would banish.
This is one of the trip that where I really moved around. In 3 full days, I was in 6 towns, 3 provinces and two huge islands (my friend told me otherwise, but I insist on considering Luzon mainland, to be an island). One of the things I regret is not having the time to see my relatives in Legaspi. But then, this is definitely NOT my last visit in Bicol. There are more interesting places to explore. I'm sure I'll be back.